This Street Soccer team is an official program of Inn From the Cold – Kelowna and is comprised of local marginalized individuals who are experiencing, or at risk of homelessness.
The aim of the team is to improve the lives of those in need by providing an athletic outlet to develop skills that can be transferred into everyday life. The Kodiak's currently play in Kelowna's Urban Recreation Co-ed League, and aim to practice once a week.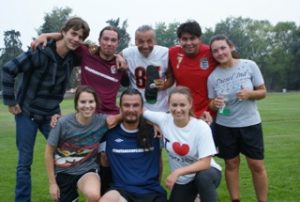 The Kelowna Kodiaks were formed in September 2010 by Tom and Tiffany Maxwell. After reading about the Homeless World Cup and the impact that soccer can have at so many levels, they were inspired to begin street soccer in Kelowna.
In 2013, the Kelowna Kodiaks became an official Inn from the Cold program. Over the years, the Kodiaks have seen tremendous success. They have competed in the National Street Soccer Tournament, Homeless World Cup in Mexico (2012) and Amsterdam (2015). The Kodiaks have year-round gymnasium space to practice, play in a local recreation soccer league, as well as participate in street-soccer tournaments out B.C.
These are just a few successes over the years that are easy see, but what is more important, and sometimes harder to see, are the personal gains and achievements that Kodiak players walk out with each game and practice. The Kodiak's are not only a successful community soccer team, but more importantly a positive social network and family.
Email info@innfromthecoldkelowna.org to join.
"My involvement with the Kodiak's changed my behavior for the better and has helped keep me out of jail." – Kodiaks soccer player